The 2023 Raider Rumble Cheer Competition will be held this Saturday, September 30 at West Laurens High School. Metter High School Cheerleaders will take the mat at 5 pm. METTER HIGH IS HIGH SCHOOL SESSION 3 (IMPORTANT) **Fans will need to buy tickets for each session they attend ($10 each-children 4 and under are free) or an all day pass is available for $15.00. Please pay close attention to the session you are buying tickets for as refunds are not allowed. TICKETS - will be sold at the door and are available on Go Fan. Please bring exact change to make ticket lines move more efficiently. PARKING/ENTRANCE - All spectators will enter through the front entrance of the school and will exit the gym using a side door. Spectators will enter from Highway 257 and park in front of the gym/tennis courts
Metter Middle School will host the first round of Playoffs for the Southeast Georgia Middle School Softball League because our MMS Lady Tigers are 6-0 in sub-region play!!! 🔥 The MMS Tigers game will be held Tuesday, September 26 at 4 pm at the MHS Softball Field against North Tattnall. Cash admission is $5. No Booster passes will be accepted because this is a playoff game. GO LADY TIGERS!!! 🐅🏆🥎
MHS Varsity Softball Lady Tigers defeat Claxton tonight with a score of 7-2! 💪🐅
Congratulations to the JV Football Tigers on their win today 20-14 in overtime against Tattnall County!
MHS Lady Tiger Softball wins against Screven Co 3-2 in a pitching duel!
MMS Tiger Football remains UNDEFEATED after a big win tonight against ECI with a final score of 28-8!
MCCA welcomed Georgia Department of Education representatives Dr. Barbara Wahl and Matt Donaldson, Senator Billy Hickman for State Senate and MCCA Board Members Victoria Gaitten and Marty Ray today to learn more about the College and Career Academy and to see some of the students in action. The group met with the Heavy Equipment Operator class (who demonstrated the heavy equipment simulators), Mrs. Autumn Chicola's ELA class (who are building a campaign to help Metter Animal Shelter), and with Mr. Tony Lescak's Film and Audio Technology class (who were filming "match shots" in the MHS Commons Area).
The MMS Tigers softball team secured the 1st seed in the playoffs today with a 14-6 win over ECI and  remain undefeated in sub-region play. Judson Vining got the win in the circle. She also had 2 hits and an RBI. Zailee Thurman and Kirsten Shuman lead the offense with 3 RBI each with Thurman collecting 3 huge hits and Shuman collecting one. Maddie White and Emma West added RBIs to the board as well! Althea Reichard added a hit. Way to #SweepTheWeek Tigers! Your MMS Tigers will play at home next Tuesday in the First round of the playoffs! Keep grinding, keep growing! Go Tigers!
oday your MMS Tiger Softball team moved to 5-0 on the season with a 0-9 victory of Screven County. The team was lead by a stellar pitching performance by Judson Vining throwing a complete game, 1-hit shutout. The team was lead offensively by Emma West, Nadeline Marks, Kirsten Shuman, and Brooklynn Lawrence who each had an RBI on the day. Zailee Thurman, Maddie White, and Shania Kelly each added 1 hit to the board! Great game Tigers! The Tigers will finish up their regular season tomorrow at 4:30 @ECI for a chance to #SweepTheWeek. Keep working, keep growing! Go Tigers! 🐅🔥
​MHS Receives Scientific Equipment Metter High School (MHS) Science Department teacher, Dr. Felicia Forbes, traveled to Tucker, Georgia to go "shopping" and received thousands of dollars in laboratory equipment and supplies from the Center for Global Health Innovation's (CGHI) Equipment Depot on Saturday, September 9, 2023. This laboratory equipment and supplies will reach hundreds of students in the MHS Science Department, MHS Science Olympiad and Science Club members. Prior to shopping, Dr. Forbes participated in the hands-on professional development workshop to learn about the Genes in Space contest. A scholarship was awarded to cover the cost of the workshop. Along with a cohort of teachers, she had a chance to complete a guided, hands-on lab activity using Biotechnology company miniPCR bio equipment. All participants were able to keep the kit containing the equipment and reagents they used to participate. Dr. Forbes stated she would like to thank all the companies who donate equipment and supplies to the Equipment Depot to support science learning in the state of Georgia. Pictured: MHS Science Teacher Dr. Felicia Forbes (left) with MHS Principal Ellis Strobridge with all the donated Science Equipment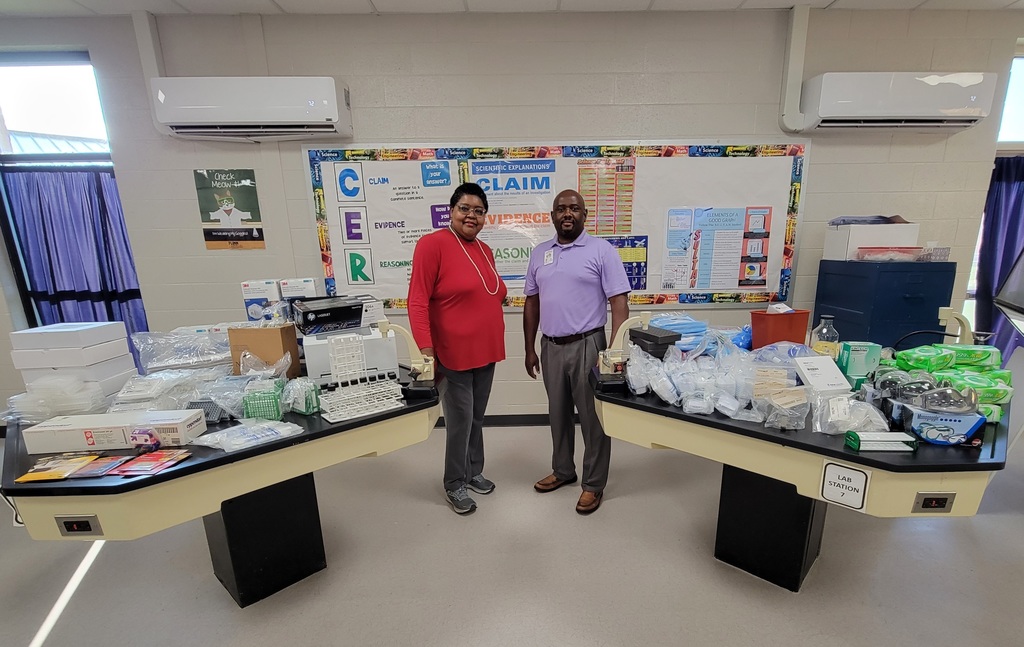 The MHS Raiders took first place overall in the Mixed Division at the Area 9 Meet today with 3 events with a first place win and 2 events with a second place win!! Mixed The Division means that the team has males and females and you start at least 4 females per event (Metter had 5 females). Congratulations to the Raiders and Col. Hoyt on the win!! Videos and photos to come!
Congratulations to the MHS Cheerleaders on being the Heart of Georgia Cheer Classic GHSA Class A champs. 📣🏆🐅
MMS Cross Country competed in a Meet yesterday at the Wetlands Adventure Relay in Richmond Hill. We are proud to announce that the Boys won 1st Place and the Girls won 2nd Place!!! Congrats, Tigers!! Way to compete!! 🔥🔥🏆🏆
Today your MMS TIGER Softball teamed claimed sole possession of 1st place in the region with a win over ECI by a score of 7-0. The Tigers were lead by an OUTSTANDING performance by Judson Vining who threw a No-Hitter while striking out 11! The Tigers were lead offensively by Emma West with her 2RBI double off the left field fence and Kirsten Shuman with her 2 RBI bunt that lead to the tigers huge 5th inning. Maddie White collected two big hits and an RBI as well. Also collecting RBIs include Kinley Johnson and Nadeline Marks. Zailee Thurman and Judson Vining also added hits to the day. Way to #SweepTheWeek Tigers! Keep grind, keep growing! The Tigers will wrap up regular season place next week with a Home Game vs Screven on Monday and @ ECI on Tuesday.
Candler County Retired Educators group met for their monthly meeting at the new First District Regional Educational Service Agency (RESA) building here in Metter. Richard Smith, Executive Director of FDRESA, welcomed the group and gave a brief description of what RESA does for educators and our community. Their program for September was Candler County School's Assistant Superintendents Dr. Cadeisha Cooper and Dr. John Jordan. Dr. Cooper spoke on the SWIRL Community Initiative, where the School District is asking parents, businesses and community members to help boost literacy rates in Candler County. She explained how Candler County Schools have formed a Community Focus Group to spearhead the initiative, complete with internal staff but also with leaders from our community. This team is active and already making plans that the community will see very soon. The community can help in a few ways: donating to FERST Readers Candler will provide a new book every month for registered children in our community from birth until their fifth birthday. Community members can sponsor a child for one year with a donation of only $42.00 (donate here:
https://ferst-readers-inc.netw
... or drop a check by the Metter Elementary School that designates it as a FERST Reader donation). There are several "Little Free Libraries" near the businesses that surround our downtown park.These boxes are a place for readers to borrow and leave books for others to read....donate to these little libraries. The schools are always looking for volunteer readers at school events, and the Literacy Council will host several community events over the next few months that promote literacy, including Music in the Park on October 12 from 6-7 pm. Dr. Jordan gave the group an update on the new plans to build a new facility for the Metter College & Career Academy (MCCA), along with explaining how MCCA is a better fit for some students. He explained that MCCA has the intention of having a student be prepared for work and/or college. MCCA Students can graduate with less credits (less elective courses) and focus on getting students ready to go to work through partnerships with local and regional businesses, with a little more flexible school schedules, and more direct training (such as the Heavy Equipment Operator pathway and it's simulators.) The new facility has been designed and we are awaiting approval from the state on these plans before we can break ground. Hopefully, the Groundbreaking Ceremony will be held in October/November. We will keep you updated on that date. Group President, Felix Johnston, closed the meeting by asking everyone to take a look at the drawings of the new MCCA building and to be sure to attend the next monthly meeting in October.
The Candler County School District (CCSD) and the Candler County Sheriff's Office continue to collaborate for the safety of our community's students, teachers and staff through trainings and drills. Sheriff's office personnel and School Resource Officers have been working with the school administrators on planning an intruder drill, as the recent House Bill 147 requires at least one each school year. While the House Bill specifies an Intruder Drill, the Sheriff's Office has been providing many different safety drills for the schools for a number of years. The Candler County School District will conduct an Intruder Drill prior to October 1, as required by the House Bill, at the K-8 complex for the Elementary and Middle Schools and at the High School for High School and the College & Career Academy. "While these types of events are extremely rare nationwide, our focus remains on the safety of our children and staff and we want to be prepared in the best way possible for any event that might occur," says CCSD Superintendent Bubba Longgrear. The Candler County Sheriff's Office will be conducting the drill and have trained school staff on best practices in order to keep themselves and their students safe. "We want to inform the community that this is a drill and there is no reason to be alarmed," says Sheriff John Miles. "Our deputies will be on campus to conduct the drill and to evaluate procedures so we know we are prepared for any emergency." Candler County School District works daily to ensure a safe and secure learning environment for all students and staff. In the event of an actual emergency, school administrators will work in collaboration with the Candler County Sheriff's Office and other emergency management personnel. In the event of an actual emergency, parents can obtain information about their child's school by downloading the Candler County School District app on cell phones to receive notifications from the school, checking the school website, following the school on social media, as well as, accepting phone calls from the school's automated phone system. "When the actual drill takes place, our communications team will send alerts through the website, the app, and social media, just as they would in a true emergency," says Longgrear. "We ask parents to avoid coming to the school to 'check on your child' in this drill or in a real emergency. One concern noted by professionals with an event like this is that when people start racing to the school it interferes with the number of officers who can deal with the actual situation because officers are then needed to manage crowd control and secure the building from visitors." The Candler County School District would like to thank the Candler County Sheriff's Office and all local agencies for their proactive approach to school and community safety.
Did you know? Each year, the Candler County Education Foundation awards grants to our own teachers/staff members for innovation learning opportunities for our students. Some of those grants from 2022-2023 include: MES - enhancement of Tiger Time MES - purchase of books for PreK Students MES- Lego Robotics Competition MES - Math Mania Competition MMS - Reading Bowl MMS - Apple pencils for Art Program MMS - Robotics set, Engage Club and Jr. Beta Club MMS - Amazing Shake Competition MHS - Science Olympiad MHS - Performing Arts Conference MHS - JROTC MHS/MCCA - Forklift Training for students The Education Foundation depends on contributions by individuals, businesses, corporations and other resources that can be utilized to enhance the educational opportunities in Candler County Public Schools. You can learn more:
https://www.metter.org/page/candler-county-ed-foundation
and you can help by donating if you feel led to do so. Thank you.
The Board of Education has announced its intention to maintain a 14.0 millage rate, as necessary for the securing of state equalization funds, which will require an increase in property taxes by 5.58 percent. All concerned citizens are invited to the first public hearing on this tax increase to be held at the Candler County Board of Education Central Office on Tuesday, September 12, 2023 at 6:00 pm. Times and places of additional public hearings on this tax increase are at the Candler County Schools K-8 Complex on September 19, 2023 at 8:00 am and the Candler County Board of Education Central Office on September 21, 2023 at 5:00 pm. The tentative increase will result in a millage rate of 14.000 mills, an increase of .74 mills. Without this tentative tax increase, the millage rate will be no more than 13.260 mills. The proposed tax increase for a home with a fair market value of $150,000 is approximately $42.92 and the proposed tax increase for non-homestead property with a fair market value of $100,000 is approximately $29.60.
Title 1 and Parent Orientation for PreK-8th Grades coming up Tuesday, August 15. 5 pm Title 1 Meeting 5:30 pm Parent Orientation Held at PreK-8 Complex